Wood Look Tile in Champaign, IL, for Moisture Protection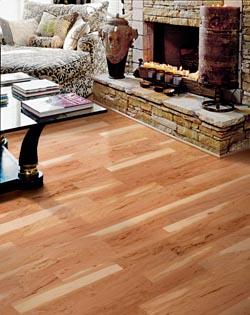 Do you want wood flooring throughout your home, even in the kitchen and bathroom? While natural wood isn't suitable for wet areas, there is a way to achieve the look you want: tile. At Flooring America, we're pleased to offer one of the widest selections of wood look tile in Champaign, IL, and the surrounding areas.
These special tile products are designed to replicate the appearance and texture of wood while also providing increased moisture protection. Wood tends to absorb moisture and swell, creating gaps over time. Porcelain and ceramic, on the other hand, are much less absorbent, making them ideal for humid climates and wet areas around the home. Stop by our showroom today to learn more about wood alternatives and find the ideal surface for your project.

Many Benefits Beyond Beauty
The first thing you'll notice about wood plank porcelain tile and ceramic products is how great they look. Not only do they closely resemble genuine wood, but also they are gorgeous all on their own with a diverse range of styles to choose from. However, these surfaces offer many more benefits beyond their beauty.
Something that sets tile apart from other flooring options is their special cooling and heating benefits. During hot months, tile floors stay noticeably cooler than other options, keeping the ambient temperature down in your rooms. In addition, you can install heating elements under your wood plank ceramic tile or porcelain tile floor for a foot-friendly temperature during the winter.
Homeowners also appreciate how easy tile is to keep clean. Since it is stain resistant, all you need is routine sweeping and mopping, along with occasional grout cleaning. Just a little maintenance will ensure your tile floor looks like new for decades or more. For complete maintenance information or further details on tile benefits, talk to our team today.

Leave the Installation to Us
When you invest in new flooring, you want to ensure it looks great. The best way to do that is to hire us to put in your new porcelain or ceramic wood tile floor. Our installers are trained to work with every product we sell. In addition, they pay careful attention to detail to make sure the process adheres to product warranty standards. Our installation crew understands that you can't wait to show off your new floor, so we work efficiently to get the job done fast.


Contact us to learn more about our wood alternatives and our installation services. We proudly serve clients from Champaign, Urbana, Mahomet, Lake of the Woods, and Augerville, Illinois, as well as the neighboring communities.