Waterproof Floors in Champaign, IL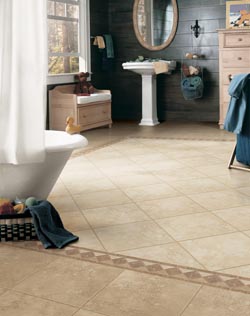 When the flood waters start to rise, ensure your home is protected with our selection of waterproof flooring in Champaign, IL. Anything from torrential rain to a burst pipe over your basement can ruin the flooring you have, so invest in floors that are designed to endure standing water and other increased moisture. Flooring America is your source for everything you need to complete your next remodeling project.
During any redecorating project, you need functional and appealing floor coverings that fit the unique needs of each room. At our flooring showroom, we take the time to learn as much as we can about the dimensions of your home and its high traffic areas. We want you to get the most out of your investment of waterproof floors, so we identify styles that fit your design plan and your existing décor. While vinyl tile offers a broad array of colors and textures, our waterproof options from Downs H2O takes resiliency to the next level.
Reuse the flooring you have after a flood and recover quickly from any disaster by visiting Flooring America. Any business in need of a new look and increased durability should consider this innovative line of floor coverings. Bring in a copy of your design plan and get the answers you need to proceed with a significant transformation of your interior.


A New Approach to Flooring
Functionality and visual appeal are both critical when it comes to the floors you choose. Whether you are remodeling a home or renovating a business establishment, you need floors that perform when it matters. Ask about our waterproof luxury vinyl planks and see how this product can match the existing hardwood planks in other rooms.
Heavy foot traffic from room to room can leave a mark on any flooring you choose, so invest in a product that offers unmatched water resistance and resilience. Each place you decorate provides the designer with a unique challenge when it comes to the environment. To enjoy the character and appeal of wood without the expansion and contraction that comes with exposure to moisture, water-resistant vinyl flooring is the solution.
The Right Fit
When you decide to move forward with a water-resistant flooring product, you need professional installation to avoid a series of repairs in the future. Water-resistant carpet must be appropriately stretched before the start of any project. Our water-resistant flooring installation team will carefully assess the entire room for any subfloor imperfections in need of repair. Once the project has been completed, your establishment will look better than it has for years.



Contact us today to start enjoying the versatility and value that comes with waterproof floors. We proudly serve customers in Champaign, Urbana, Mahomet, Lake of the Woods, and Augerville, Illinois, and surrounding communities.