Beautify Your Home with Vinyl Flooring in Champaign, IL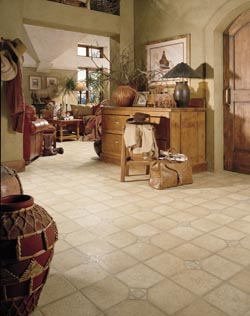 Improve the look, feel, and functionality of your home with Flooring America. As one of the leading providers for vinyl flooring in Champaign, IL, we make it easy for customers to explore their options and make smart remodeling decisions. With our industry-leading selection and customer-oriented approach to service, finding the right flooring is a simple, exciting, and rewarding experience.
A vinyl floor is a smart investment. Praised highly for its cost-effectiveness and versatility, this flooring choice is durable, water-resistant, and easy to maintain. Our showroom offers a diverse selection of vinyl sheet flooring and tile. This provides the flexibility you need to create spaces that you will love. Our company has teamed up with the leading manufacturers of flooring to provide an extensive catalog. At our location, you may view samples of different vinyl, choose your favorites, and order the products that best fit your needs.
The Vinyl Flooring Advantage
Strengthen your home and create the interior you have always wanted: vinyl is a solid choice. Thanks to state-of-the-art manufacturing techniques, vinyl is available in a variety of styles and colors. Of course, there are many advantages to choosing vinyl:
Strength: Vinyl is revered for its resiliency. This is a flooring material that is built to last. Thanks to its distinct composition, it can resist the effects of bumps, scrapes, and impacts. Many homeowners love placing vinyl floors in high-traffic spaces, such as hallways, the kitchen, and their bathrooms.
Ease of Maintenance: Owing to its strength, vinyl sheet, planks, and tiles are also designed with daily life in mind. This material is solid surface flooring and repels stains, dust, and dirt. Most spills and accidents only require a mild cleaner and cloth to pick up. Investing in vinyl will save you time and energy.
Variety: Vinyl flooring is available in a stunning variety of designs. Choose from classic or modern styles. It is also available in the appearance of materials like solid hardwood and ceramic tile. The different styles of vinyl provide the flexibility you need to complete your interior design.
Complete Your Project with Us
Know that you want to invest in vinyl but aren't sure where to begin? Not to worry: we're here to help. Our showroom associates are well-versed in flooring and remodeling. We will work with you to find the flooring that meets your remodeling goals. Whether you have plans to re-floor a single room or your entire interior, we're here to ensure your project is a lasting success.
We also provide vinyl flooring installation services. Our showroom will send a team of professional installers to complete your project. They will work quickly and carefully to ensure new flooring looks great and lasts a long time.
Constructing your ideal interior begins at our flooring showroom. Contact us to learn more about our vinyl flooring options.