The Best of Beauty & Performance with Tile Flooring
Improve the look and feel of your home with tile flooring in Champaign, IL. At Flooring America of Champaign, our flooring showroom offers a wide selection of tile options that fit your budget. We carry tile flooring of all shapes, sizes, and colors. Best of all, we carry products that cater to your personal design tastes and meet your demands for performance. Simply choose the type of tile—ceramic, porcelain, or slate—and we'll do the rest. As flooring contractors, we have a great deal of experience in the industry, and we know how to transform the look of any area. We handle projects of all sizes and scopes. In addition, our store features excellent guarantees on our products and services, including tile floor installation. Enjoy your home renovations as our in-store specialists guide you every step of the way—from selection through installation. Visit our Champaign, IL, showroom today to get started!

Types of Tile Flooring Available at Our Local Flooring Store
No matter your preferences, you'll find a wide variety of tile flooring at Flooring America Champaign that are sure to satisfy. Learn more about the types of tile we carry:
Ceramic Tile Flooring
One of the most dramatic ways to improve the ambiance of your home is to install contemporary ceramic tile. It's a versatile and durable floor covering that lasts a lifetime. In addition, this tile resists moisture, stains, extreme temperatures, and damage. Developed using kiln-fired clay, these tiles are easy to maintain and perfect for any room in the house.
Porcelain Tile Flooring
The ideal choice for many flooring applications, porcelain floor tiles are strong and beautiful with a modern appeal that suits any décor. It can be used for many decorative purposes and in any room from the kitchen to the bathroom to the living room. Porcelain is resistant to varying temperatures and moisture levels. Also like ceramic, porcelain is created by firing clay in a kiln oven, though for a longer period of time, resulting in a denser finish for maximum durability in high-traffic areas.
Stone Tile Flooring
While many types of tiles are made with ceramic or porcelain, we also carry options in natural stone, such as slate or travertine. Stone tile flooring gives your home an upscale, earthy ambiance that makes it a calming place to live. In our showroom, we have many samples of natural stone tile to share with you.
Wood-Look Tile Flooring
Do you desire hardwood flooring throughout your home, even in the kitchen and bathroom? While natural wood isn't suitable for moisture-prone areas, there is a way to achieve the hardwood look you want with tile flooring. At Flooring America of Champaign, we're pleased to offer one of the widest selections of wood-look tile in Champaign, IL. Achieve the warm looks of birch, oak, maple, or mahogany, complete with authentic-looking grain patterns, knots, and whirls with our wood-look tile.
These contemporary tile products are designed to replicate the appearance and texture of wood while also providing increased moisture protection. Wood tends to absorb moisture and swell, creating gaps over time. Porcelain and ceramic, on the other hand, are much less absorbent, making them ideal for humid climates and wet areas around the home.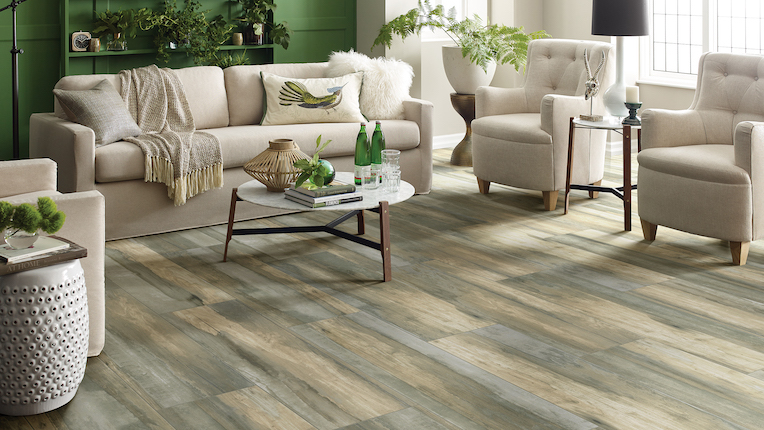 Find Wall Tiles, Shower Tiles & Custom Backsplash Tiles
At Flooring America Champaign, we are proud to offer more than just tile flooring. If you're looking for some elegant new wall tiles, accent wall mosaic tiles, a patterned kitchen backsplash, or a gorgeous slate for your bathroom shower, you can find the perfect tile for your renovation project. We are proud to offer custom tile designs and installations for your own unique look. Whether you want to achieve a warm and airy look, a calming biophilic design, or a sleek modern space, visit our Champaign, IL, store to peruse our selections of wall and bathroom tiles!
The Advantages of Tile Flooring
If you are interested in tile flooring for your home upgrade, it's important to understand both the design possibilities as well as the performance features. We make it a point to carry industry-leading tile brands such as Daltile, Emser Tile, and more to ensure each customer finds long-lasting satisfaction. Learn about all the advantages of choosing tile flooring for your Champaign, IL, home or business:
A variety of price points to meet any project's budget.

Scratch-proof quality that lasts for decades with proper maintenance.

Waterproof tile is perfect for bathrooms, kitchens, laundry rooms, and high-moisture environments.

Endless design opportunities with customizations available.

Durability that performs well high traffic areas over time.

Eco-friendly flooring choice made of natural materials.

All types of tile flooring are compatible with Schluter ®-DITRA-HEAT radiant heated flooring systems.

Quick and easy installation process when you hire our team of expert in-house tile flooring installers.
Cleaning Made Simple with Tile Floors
Active families with children and pets will marvel at how easy maintenance and cleaning is for tile flooring. Additionally, tile floors repel allergens, pollen, and dander, providing seasonal relief to many who suffer from allergies. For long-lasting luster, follow these easy steps for tile cleaning and care:
Standard cleanup is typically done with regular sweeping or vacuuming and the occasional wet mop.

For a heavy-duty clean, strong solution all-purpose cleaner can be used on glazed tiles, while unglazed tiles can be treated with paste, water, and scouring powder.

We always recommend consulting your tile's warranty or asking a professional before using cleaners with harsh chemicals to avoid damaging your tile floors.
Tile Installation from the Professionals
Our local flooring store offers a comprehensive experience beyond simple product selection. After we help you select the floor of your choice, we offer tile floor installation by our on-site professional installers. We stand behind the quality of our services as well as our products, backing them with some of the best warranties in the industry. When you choose us for flooring products and installation services, we ensure that you have an easy, worry-free, and enjoyable experience. Our Ultimate Confidence Guarantee assures that you can call us within 30 days of installation, should you be dissatisfied with the work that was done, and we will make it right at no extra cost to you.
By allowing our installation professionals to properly remove your old flooring and install your new tile floor, you know that each step is handled with care by experienced flooring technicians who utilize the best equipment and methods available. Protect your investment by leaving the installation to us!
Contact us today to start your tile renovation project! We proudly serve residential and commercial customers from Champaign, Urbana, Mahomet, Lake of the Woods, Augerville, Illinois, as well as the surrounding areas.