Tile Flooring in Champaign, IL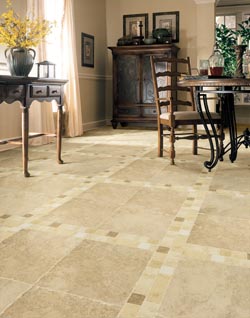 Improve the look and feel of your home with tile flooring in Champaign, IL. Our store offers a wide selection of tile floor options. Give your home wall-to-wall appeal when we install the flooring of your choice. We carry ceramic, porcelain, and slate tiles of all shapes, sizes, and colors. Best of all, we carry products that cater to your taste and your budget.

Simply choose the texture, size, style, and color, and we'll do the rest. As professional flooring contractors, we have a great deal of experience in the industry, and we know how to transform the look of any area. In addition, we handle projects of all sizes and scopes. In addition, we feature excellent guarantees on our flooring products and services including tile floor installation.
Why Choose Ceramic Tile Flooring?
One of the most dramatic ways to improve the ambiance of your home is to install a ceramic tile floor. It is a durable and versatile flooring product that lasts longer than a lifetime. In addition, it's very resistant to moisture, stains, extreme temperatures, and damage like scratches or gouges. Choose from an endless selection at our store. Easy to maintain and perfect for any room in the house, ceramic tile flooring is the perfect choice for any homeowner.

After we provide a tile floor installation, if you are not happy with your new 4- or 5-Star rated floor within 30 days of the installation we will replace it for you. That is our Ultimate Confidence Guarantee. We also feature a Lifetime Guarantee on our installation services. If you have any installation-related issues with your floors, we'll fix the problem free of charge for the life of the floors.
Types of Tile Flooring Available
No matter what type of interior style you're going for, we have an option to suit your needs. While most types of tiles are made with ceramic or porcelain, we also carry options in vinyl and even natural stone like slate. If you love the look of hardwood flooring, but prefer the low maintenance and durability of tile, consider wood-look glazed ceramic tile by Floorcraft. You can enjoy the traditional and elegant look of hardwood without the risk of stains or scratches.
If you're looking for a lighter weight option that is still easy to maintain, water resistant, and stain resistant, consider vinyl tile flooring available in a wide range of colors, sizes, and appearances including hardwood, natural stone, marble, brick, and more. Vinyl offers all the benefits of ceramic and stone tile floors at a fraction of the price and weight. This makes it ideal for rooms on the upper levels of your home as well as the lower level rooms like the kitchen, bathrooms, and laundry room.
Benefits of Porcelain Tile
The ideal choice for many flooring applications, porcelain tile flooring is not only strong but exceptionally beautiful. It can be used for many decorative purposes and in any room, as well as the kitchen and bathroom. Like ceramic, porcelain is also incredibly resistant to extreme temperatures. This makes it an ideal material to use in outdoor areas like the patio or even around the swimming pool. At our store, we guarantee low prices on all of our tile products. That's something you won't find at other flooring stores. In addition, we'll help you select the right product for your project. Some of the benefits of using porcelain tile include:
Available in an Endless Variety of Styles, Sizes, & Patterns
Harder & Denser than Other Flooring Products
Strong & Long-Lasting
Easy to Maintain
Able to Handle Heavy Traffic Areas
Resistant to Staining, Scratches, & Moisture
Professional Tile Flooring Installation
We are much more than a flooring store. After we help you select the floor of your choice, we offer professional tile floor installation by our on-staff installers. We stand behind the quality of our services as well as our products. When you choose us for flooring products and installation services, we ensure that you have a confident, worry-free, and enjoyable experience.

By allowing our installation professionals to properly remove your old flooring and install your new tile floor, you know that each step is handled with care by experienced flooring technicians who utilize the best equipment and methods available. Protect your investment by leaving the installation to us.
Contact us for information about our flooring specials and custom tile floor installation services. We proudly serve residents and commercial customers in Champaign, Urbana, Mahomet, Lake of the Woods, and Augerville, Illinois, as well as the surrounding areas.