Improve Your Home with Luxury Vinyl Planks in Champaign, IL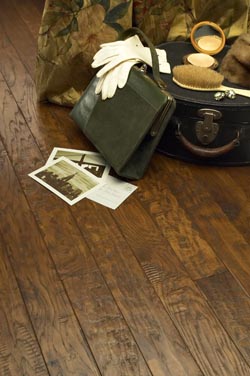 It's time to revitalize your interior with Flooring America. We are your source for luxury vinyl planks in Champaign, IL. When you visit our flooring center, you will find the products and support you need to turn your remodeling ideas into reality. Visit our showroom, find inspiration, and realize the interiors you have always wanted. We are with you at each step.
The Benefits of Luxury Vinyl Plank
Enjoy the beauty of Nature virtually anywhere throughout your home. Luxury vinyl plank flooring successfully unifies function and form to create a practical, visually appealing material that will serve you well for years. This flooring material, popularly known as LVP, is a great addition to your home, thanks to its strength and beauty. Many of the advantages to this flooring come from its robust set of features. Homeowners have come to love this flooring material for a variety of reasons.
First, LVP is a flooring material that is specially manufactured to emulate the texture and appearance of natural hardwood. With this flooring, your interior remodeling options are expanded greatly. LVP flooring is available in the style of many popular hardwood species, including mahogany and oak. It will not warp, shrink, or change shape. In turn, you may enjoy the distinct ambiance of Nature anywhere you like—including moisture-prone zones like the bathroom and basement.
Another reason to choose LVP is its strength. Advances in manufacturing have made this flooring solid, hard, and resilient. It won't be damaged easily by the likes of foot traffic, bumps, impacts, and the shuffling of furniture. LVP is made to last. You can place this flooring in high-traffic zones like the hallway or kitchen, and will still look brilliant through years of daily use.
With strength also comes ease of maintenance. Luxury vinyl plank is highly resistant to water. The surface repels water and liquids, as well as dust and dirt. In turn, you will spend less time and energy cleaning LVP surfaces. The easy-to-clean nature of this flooring has made it a top choice among parents and pet owners.
Flooring Installation Made Simpler
Our flooring showroom features hundreds of LVP products. View our samples and find the right flooring that will meet your needs. If you aren't sure where to begin, simply let us know. We are happy to arrange an in-depth consultation and plan your project with you.
When it's time to put those plans into motion, our team is here for you. We facilitate luxury vinyl plank floor installation. Our skilled and experienced crew handles installation projects of virtually any size. Whether you are re-flooring the living room or your entire property, you can count on us to deliver picture-perfect results.

Contact us to learn more about our selection of luxury vinyl planks. We proudly serve customers in Champaign, IL, as well as Urbana, Mahomet, Lake of the Woods, Augerville, and the surrounding area.