Beautiful and Durable Laminate Floors in Champaign, IL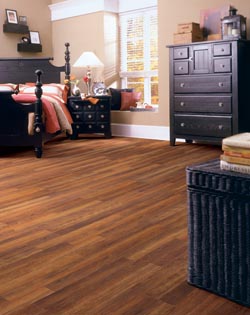 Update your home with stunning new laminate floors in Champaign, IL. Whether you are remodeling your kid's bedroom or updating the floors in your living room, Flooring America has the exact solutions you need. Our expert staff will work closely with you to find the flooring option that not only looks amazing, but that will also hold up to your busy household and family. To learn more about the various flooring options, we have available or to explore our vast collection of laminate, visit our showroom.
Perfect for Busy Homes
Laminate flooring is designed with busy families in mind. With the realistic look of stone or hardwood, laminate fits into nearly any space, providing a high-level of durability and scratch resistance. Additionally, laminate planks also offer stain resistance, meaning that your floors will keep their beautiful luster even when spills and messes happen. This makes laminate the perfect solution for families with young children or pets.
Professional Installation
At Flooring America, we want to ensure that your laminate floor installation looks its best and lasts for years. That is why we offer professional installation services from our team of skilled flooring contractors. Our team will take care of all the work needed to properly layout and install your new floors in any room of your home. Contact our office to learn more about our installations and to let our team take care of all your flooring needs.


Contact us today for laminate flooring that accentuates any interior. We proudly serve customers in Champaign, Urbana, Mahomet, Lake of the Woods, and Paxton, Illinois, and surrounding communities.