Laminate Flooring in Champaign, IL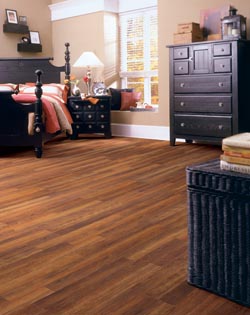 Cover more of your floor than you ever thought possible when you consult with a design specialist at Flooring America. Our team is ready to match your interior décor with a plank flooring product from our diverse selection of laminate flooring in Champaign, IL. When you decide to remodel the kids' bathroom or an upstairs bedroom, you have a broad array of factors to consider.
We consider the entire home when we support your remodeling project. Visit our showroom and find flooring for every room you love. While many want the charm and appeal of solid wood in their bathroom and kitchen, a traditional plank is ill-suited for high-moisture environments. The designer will take the time to ask you important questions about your budget and your home life. When you have a house full of active pets and kids, the right way to go is laminate floors.
Take advantage of our 5 Star Selection system as you browse our inventory of flooring choices. Each product at our location is rated according to the installation warranties and price protection guarantees for each. When you see how much you will save at Flooring America, you can begin to purchase flooring for rooms you had not even planned to decorate.
Floors That Fit the Places You Love
Wide plank laminate flooring is designed with the active family in mind. Our laminate offers you the realistic look of wood and stone, along with superior scratch resistance. The floors are resistant to stains, and the backing layer ensures proper installation. Your home will look better, and your business is sure to attract additional clients. New floors can transform an ordinary space into something extraordinary.
For additional resilience and endurance, our showroom includes several products from leading manufacturers. These laminate flooring waterproof properties are reliable when it matters
Performance and Character
Maintain the aesthetics of your frontier home when you replace the worn carpets with rustic wide plank flooring. While many appreciate the physical advantages that laminate provides, others enjoy the realistic look of distressed hardwood. Our designers are here to make this process a success. From the moment you purchase new floors until the last plank has been installed, our team is ready to answer any challenge.


Contact us today for laminate flooring that accentuates any interior. We proudly serve customers in Champaign, Urbana, Mahomet, Lake of the Woods, and Paxton, Illinois, and surrounding communities.