Laminate Flooring in Champaign, IL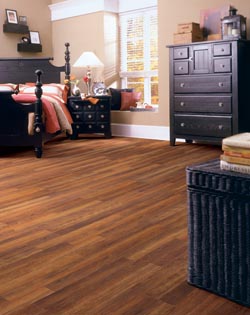 When it comes to deciding on what type of top-quality flooring to have installed in your home, visit our reputable store. At our expansive showroom you are sure to find just what you need at some of the lowest prices in the area. We offer a vast selection of superior flooring that will upgrade the appeal and value of your home. Shop our impressive selection of stylish and durable laminate flooring.
The laminate flooring options available from our team are sturdy, attractive, and easy to maintain. These strong floors are a great addition to rooms that take a lot of wear and tear, including walkways, kitchens, and bathrooms. They also work well as design upgrades to enhance living rooms, dining rooms, and bedrooms. We have flooring options that can complement several interior design preferences and our laminate flooring installation team ensures that your new floors look just as good in your home as they did in our showroom.
Superior Laminate Flooring Options
If you want a strong floor that outlasts high impact traffic then you are in the market for one of our laminate flooring options. This strong and sturdy flooring option is great for rooms susceptible to lots of activity, water, and moisture, including kitchens and bathrooms. Young families and households with pets will also benefit from the endurance of laminate floors.
Think the toughness of our laminates means you have to lose any aesthetic beauty? Think again. Our laminate flooring is manufactured with many different aesthetic tastes in mind and is capable of realistically mimicking the appearance of some of the most expensive and sought-after flooring types, including stone and hardwood. When you choose these floors, you are selecting a natural-looking floor that can stand up to traffic and still look amazing. This flooring option is fabricated with a four-layer construction, which includes:
Top layer: Resists stains
Decorative layer: Provides a decorative and natural-looking appearance
Core layer: Provides water resistance and fiberboard density
Backing layer: Ensures proper installation
These layers help provide impact resistance, stand up to staining and create a high-quality appearance.
Professional Laminate Flooring Installation
Choosing the right type of laminate flooring option is only the first step. Equally important is ensuring that your brand-new laminate floor is properly installed. Even the most gorgeous, rugged floor can end up giving you a plethora of problems if it isn't installed the right way. Many individuals that decide to let an amateur try to install their new floors find that any money they might have been able to save is lost in trying to fix issues with bubbling, unevenness, and even just damaged materials.
If you want the real cost-effective way to receive laminate flooring installation services then you need to turn to our expert staff. Not only are we capable of installing your new floor the right way the very first time, but we keep our installation costs just as affordable as we keep the flooring costs in our showroom. Choosing our professionals to install your floor is just another great choice you are sure to make when you come in and speak to one of the friendly staff members at our showroom.
Kitchen and Bathroom
Laminate flooring is a great option for rooms susceptible to high impact, water and moisture, such as kitchens and bathrooms. Young families and households with dogs will benefit from the endurance of laminate floors.
Laminate flooring is manufactured in different aesthetic options. Laminate flooring can realistically mimic the appearance of stone. When you choose laminate flooring, you are selecting a floor that can stand up to traffic while still looking natural. Call us today at <PHONE> for more information.


Contact us when you are looking for the perfect laminate floor for your home or business. Our sales, design, and installation teams provide service to customers located in Champaign, Urbana, Mahomet, Lake of the Woods, and Paxton, Illinois, as well as the surrounding areas.