Flooring in Champaign, IL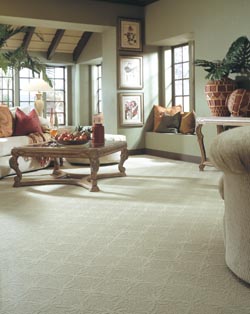 You have a variety of options when it comes to decorating your home's interior, and new flooring is an ideal choice. A variety of materials and colors are available, allowing you to complement a single room or every room in your home. Find the most beautiful selection of flooring in Champaign, IL, at our flooring store.
Flooring America has everything you need for your upcoming decorating project. It doesn't matter whether you choose hardwood, carpet, laminate, tile, or luxury vinyl, today's flooring is both attractive and durable. While some flooring types work better in some rooms, all of our flooring will make your home's interior modern and stylish.
Beauty and Functionality
A great feature of today's flooring is that it is also comfortable. From baby arches to arthritic ankles, your flooring provides support and cushion that makes it easy to move from room to room. Some floor coverings also act as another layer of insulation in your home, which keeps you comfortable from season to season and helps to lower your energy costs. Additionally, some flooring has soundproofing qualities that help reduce the level of noise from outdoors.
A Flawless Look Underfoot
Your rooms will look fabulous because we provide you with products from the top flooring brands in the industry. However, even the best floor coverings need to be installed properly so that they remain in place long after installation. We perform detailed flooring installation using all of the appropriate materials, supplies, and tools. For every installation, we make sure all pieces fit, that they are level, and that they create a uniform appearance. Visitors to your home are sure to compliment your floors as soon as they walk in the door. And you'll feel proud of the way your new floor coverings transform your existing décor.
Proper Care for Longer Life
Beauty, durability, and functionality are some of the main features of your new flooring. If you want it to remain in top condition, understanding your new flooring's maintenance requirements are key. You should follow the manufacturers' directions for cleaning and care to make sure your flooring always looks great. Additionally, you should always clean up liquid spills quickly and avoid dropping heavy objects onto your floors as part of your overall floor maintenance process.
Contact us for flooring that creates a distinctive look in every room in your home. We proudly serve customers in Champaign, Urbana, Mahomet, Lake of the Woods, and Augerville, Illinois.