Elegant Hardwood Flooring in Champaign, IL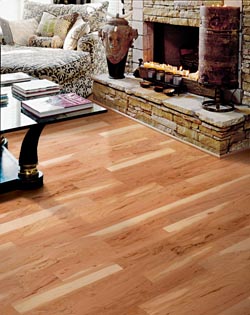 Give your home a beautiful new look when you update your floors with hardwood flooring in Champaign, IL. At Flooring America, we offer a number of wood flooring solutions to upgrade the surfaces in your home.
Hardwood is always one of our most popular options among homeowners. This is thanks to the significant value that a wood floor adds to your property. Additionally, hardwood floors are very resilient and can easily be refinished to help extend their lifespan in your home. With the proper care and maintenance, a wood surface can easily keep its beauty for decades.
Two Major Varieties
When deciding on the type of hardwood for your home, there are two major styles to choose from – solid and engineered. Solid hardwood planks, as the name would suggest, are made from a single solid piece of wood. This makes them highly robust and a great option for hallways and living rooms, where foot traffic is highest. Additionally, a solid wood surface can easily be refinished if it becomes scratched. This is accomplished by sanding away the old finish and reapplying a new stain and sealant to give your floor a like-new shine.
With engineered wood planks, they are made by pressing multiple layers of wood together with a fiber core. This design makes them very flexible and allows them to absorb moisture without changing in size. Because an engineered hardwood floor won't shift when it gets wet, it makes them perfect for areas where solid wood is not recommended, such as in kitchens or basements.
Our Hardwood Installation Service
After you choose the new wood surfaces for your home, let our team take care of the installation. Our professional installers have the tools and experience needed to properly layout and install your new wood flooring. Our team will always ensure that your new surface looks as good in your home as they did in our showroom. Additionally, after installation, we can provide you with advice on how to correctly maintain your new surface.
Contact us when you are looking for a beautiful new flooring solution to update your home. We proudly serve Champaign, IL, and the surrounding areas.