Carpet Flooring in Champaign, IL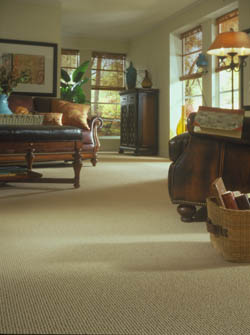 Finding fashion-forward flooring that is also stylish, practical, and affordable is easy at our locally owned flooring store. We offer you more than 17,000 different types, styles, and colors of flooring that includes carpet, as well as hard surfaces, such as hardwood, vinyl, laminate, and tile.
Come into the impressive showroom at our carpet outlet to see and touch the types of flooring for yourself. We have sales and design professionals on hand to show you samples, answer your questions, and make suggestions. Let us help you narrow your choices and take samples home to see how they work with your décor.
Your preferences, lifestyle, and budget all have a big impact on the type of flooring that is best for you. With the countless options in our store, our sales professionals are confident that we have the perfect flooring to best suit your needs in looks, performance, and price.


Brand-Name Options at Carpet Outlet
You have looked through our showroom, talked to our sales professionals, and decided you want carpet for your home. Great choice! Carpeting is as practical as it is beautiful. Among all the area carpet stores, ours is the reputable one that provides you with the best selections, prices, and installation.
Today's carpeting is soft, strong, and stain-resistant. Find carpeting that takes wear and tear and still manages to look beautiful. Unlike other Champaign carpet stores, our store offers brand names in carpeting that are known and respected for quality and performance. These include:
Resista™ – Would you like carpeting that comes with a 10-year warranty on stains for food and drink? Receive that when you buy Resista carpeting. This carpet brand is perfect for busy households as liquids bead up so you can blot them away.

Tigressa™ – We offer three different styles of Tigressa carpeting. All are known for their superb softness and great strength. The newest style is Tigressa H2O. This waterproof carpeting is made with a backing that contains a moisture barrier. This prevents liquids from sinking through to the carpet pad or the subfloor. Because of this, Tigressa H2O is waterproof, kid-proof, and pet-proof.

Innovia™ - Soft and resilient, Innovia is made of a natural-based material that is eco-friendly and strong. This brand of carpeting features fibers that spring back into place when stepped upon and offers you built-in stain protection.

HomeCraft™ - Giving you variety and choices, HomeCraft carpeting comes in a wide range of pile types and colors that are suited to individual rooms, as well as your entire house. Whether you prefer the ultimate in softness or durability, choose from loop, Saxony, twist, or velvet pile, as well as natural weave.


Carpet Installation by Professionals
After our flooring specialists have helped you choose the carpeting that is perfect for your home, rely on our flooring technicians for professional installation. Laying carpeting correctly requires knowledge, experience, skill, and the right tools.
Our technicians properly prepare the subfloor, correctly place the pad, and accurately install your new carpeting. They make cuts expertly so that the nap covers the seam, leaving your new flooring flawless.

Contact us today for help in choosing the right carpeting for your lifestyle. We proudly serve the communities of Champaign, Urbana, Mahomet, Lake of the Woods, and Augerville, IL.