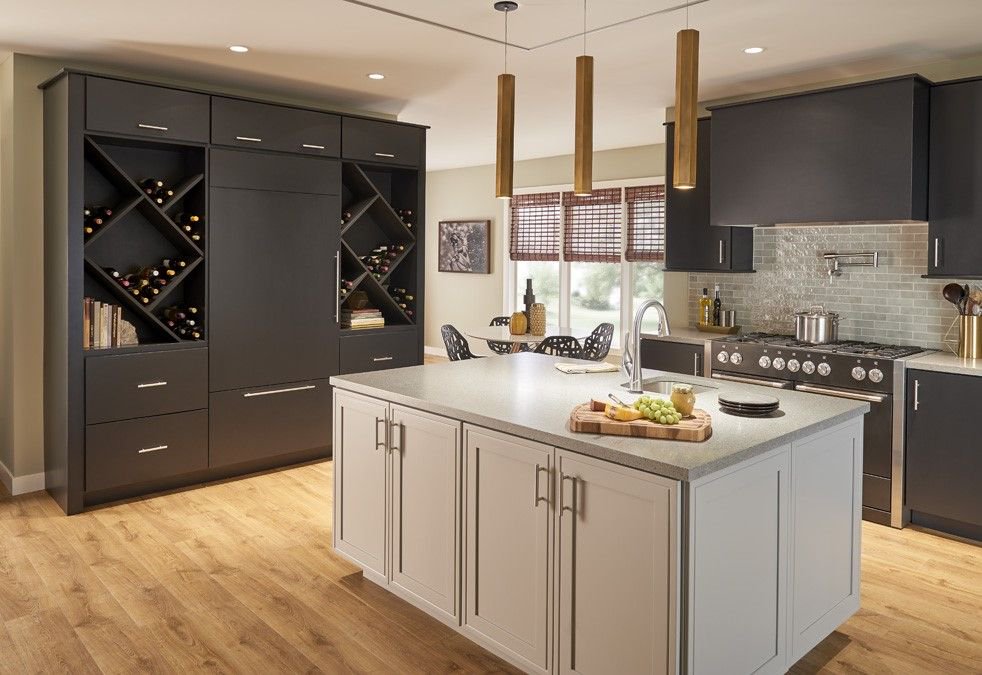 Transform your Champaign, IL, home with Flooring America's exquisite cabinets. We recognize the significance of well-crafted kitchen cabinets and versatile cabinetry in your living spaces.
Enhance your rooms and replace outdated storage with our expansive cabinet selection. Our Champaign, IL, showroom proudly displays a diverse range of top-quality cabinet choices, ensuring optimal space utilization. Whether you need kitchen cabinets or versatile cabinetry, we have you covered.
Our seasoned in-store team specializes in cabinetry, offering invaluable advice to assist you in selecting the perfect cabinets for your family's daily needs. Flooring America is your ultimate destination for superior cabinets in Champaign, IL, simplifying decision-making. Explore the perfect cabinetry solution for your home today.
Choosing the Perfect Cabinets for Your Home
Picking the right cabinets is a pivotal decision that can significantly impact the functionality and aesthetics of your living space. To guide you through this process, consider these essential factors:
Assess Your Storage Needs: Start by evaluating your storage requirements. Are you searching for kitchen cabinets for cookware, bathroom cabinets for toiletries, or specialized storage solutions? Understanding your needs is the initial step.
Style and Design Harmony: Reflect on the overall style of your space. Do you lean towards a modern, minimalist ambiance, favor classic and timeless designs, or seek something in between? Your choice of cabinet style should seamlessly integrate with your existing decor.
Material Selection: Cabinets come in various materials, such as wood, laminate, and metal. Each material boasts its unique aesthetics and durability characteristics. Choose a material that aligns with your style and can withstand daily wear and tear.
Set a Clear Budget: Establish your budget early in the process. Cabinet prices can span from budget-friendly to high-end custom options. Having a defined budget helps you streamline your choices and prevents overspending.
Consider Hardware and Accessories: Pay attention to the significance of hardware and accessories. Handles, knobs, and pulls can notably impact the cabinet's appearance. Contemplate whether you desire soft-close hinges, pull-out shelves, or other accessories for added convenience.
Size and Layout Optimization: Ensure that the cabinets fit your available space and layout. Precise measurements and strategic placement are key to maximizing functionality.
Prioritize Quality and Repute: Invest in cabinets of the utmost quality from renowned brands. Well-constructed cabinets not only enhance aesthetics but also ensure longevity.
Select Complementary Colors and Finishes: Opt for cabinet colors and finishes that harmonize with your space. Lighter shades can make a room feel more spacious, while darker tones introduce depth and coziness.
Explore Our Popular Cabinet Styles and Types
Explore a diverse selection of cabinet styles and types at Flooring America in Champaign, IL:
Flat Cabinets: Achieve a sleek, modern look with flat cabinets featuring a smooth, minimalist design perfect for contemporary interiors.
Inset Cabinets: Exude timeless elegance with inset cabinets, where the cabinet door sits flush with the cabinet frame, creating a classic and refined appearance.
Shaker Cabinets: Known for their versatility, Shaker cabinets offer a clean and simple design suitable for various styles, from traditional to modern.
Louvered Cabinets: Add a touch of sophistication with louvered cabinets featuring horizontal slats for a distinctive, upscale look.
Thermofoil Cabinets: These easy-to-clean cabinets offer a smooth, seamless appearance and are ideal for modern, high-traffic spaces.
Distressed Cabinets: Embrace rustic charm with distressed cabinets featuring weathered finishes that add character and warmth to any room.
Beadboard Cabinets: Achieve a cottage or coastal vibe with beadboard cabinets, known for their charming vertical paneling, perfect for creating a relaxed and inviting atmosphere in your space.
Our extensive range of cabinet styles ensures you can find the perfect cabinetry to elevate your Champaign, IL, home's aesthetics and functionality.

Comprehensive Cabinet Services for Your Convenience
At Flooring America in Champaign, IL, we offer a comprehensive range of services to ensure your cabinet project is a seamless success. Our dedicated team is committed to delivering expert guidance and top-notch solutions tailored to your unique needs:
Design Advice: Our experienced professionals provide valuable design consultations to help you select the perfect cabinet styles and layouts for your space.
Custom Cutting: We offer precision custom cutting services to ensure your cabinets fit flawlessly within your space.
Sealing Services: we provide sealing options to safeguard your cabinets from wear and tear, moisture, and more for added protection and longevity.
Semi-Custom Cabinetry: Explore our semi-custom cabinetry options, allowing you to personalize your cabinets to match your preferences and requirements.
Cabinet Hardware: Find the perfect finishing touches with our extensive selection of cabinet hardware, including handles, knobs, and pulls to complement your cabinet choices.
Count on Flooring America to provide high-quality cabinets and the essential services that transform your vision into reality.
Professional Cabinet Installation
Our exceptional service begins with the selection process and continues to the completion of your cabinet installation. We employ teams of experienced technicians specifically trained in cabinet installation. Our professional installation services provided by our professionals allow you to begin enjoying your new cabinets sooner than you thought possible. We are 100% committed to your satisfaction.
Contact us to learn more about our cabinet selection and services. We proudly serve customers in Champaign, IL, and the surrounding communities.