Vinyl Flooring in Champaign, IL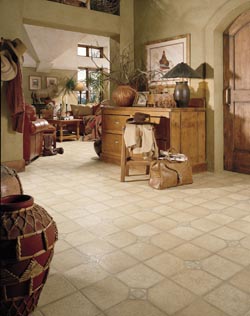 Flooring America carries unmatched flooring and carpeting from first-rate companies in Champaign. We maintain excellent recognition by providing outstanding flooring, affordable prices and expertise you can rely on. Locally operated, Flooring America is committed to finding the best type of flooring for our clients. We will create a pleasant experience from beginning to end!
Vinyl Flooring is Right for Your Home
Vinyl floors are a top flooring option because of its versatility. It stands up to high impact and is great for busy families. Amongst all types of flooring, vinyl flooring creates the most comfortable surface. A vinyl floor is recommended for kitchens, bathrooms and entranceways. Vinyl-flooring options include no-wax, urethane and enhanced urethane. Each type offers different qualities. Enhanced urethane stands up to shoes, dirt and cleaners.


First-rate Customer Service
Flooring America's consultants assist with your flooring specifications from a consultation to installation. During a consultation, we will listen to what you want and offer excellent suggestions. We will select top-notch flooring options based on the qualities that are most important to you, such as affordability, dirt and scratch resistance, easy maintenance and your taste in style. After installation, our professional consultants can offer great floor-care tips. Properly maintaining your vinyl floor helps extend its life and keeps it looking exceptional.
Call us today at <PHONE> for more information.



We proudly serve the communities of Champaign, Urbana, Mahomet, Lake of the Woods, Augerville, Savoy, Bondville, Paxton, Rantoul, Danville and Monticello, Illinois.