Hardwood Flooring in Champaign, IL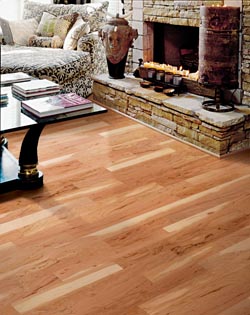 Flooring America has your flooring needs taken care of in Champaign! As a locally recognized carpeting and flooring store, we offer an extensive selection of floors, including traditional and exquisite hardwood flooring. We carry all manufacturers, featuring a variety of hardwood-flooring styles and finishes. At Flooring America, we are committed to providing the finest floors for your home!
Lasting Beauty and Superiority
Hardwood floors have a reputation for creating classic and exquisite appearances. Rooms with hardwood floors exude natural beauty and opulence. Based on your interior-design theme and accent pieces, hardwood floors can complement the theme of any room. Whether you are making over a formal guest bedroom or designing a friendly living room, a hardwood-flooring upgrade will work beautifully. Our flooring specialists can help you find the best product for your design preferences.
We will be your specialist as you think about:
Companies
Glosses
Colors
Planks or strips
Aesthetic effects (i.e., edges and ends)
Your budget
Our priority is to make the floor-installation process fun and successful! From flooring selection to installation, our professionals will ensure that your flooring and design needs are met.


Hardwood-flooring Characteristics
In addition to its aesthetic appeal, hardwood floors are flexible. Solid hardwood can be stained or refinished to complement home-improvement projects. Stay away from installing a solid hardwood floor in rooms prone to humidity or scratching. For scratch resistance and long-term performance, an engineered hardwood floor is our preferred alternative. Engineered hardwood works well in basements, bedrooms, dining areas, living rooms and entranceways.
Call us at <PHONE> for more information.



We proudly serve the communities of Champaign, Urbana, Mahomet, Lake of the Woods, Augerville, Savoy, Bondville, Paxton, Rantoul, Danville and Monticello, Illinois.